We Want to Hear From You!
Give us a call and let us show you why we are commonly referred to as the best in the business!
Our Racing Experts
Performance Bodies knowledgeable sales staff has countless years of racing experience to help you.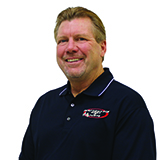 Scott Braun
Performance Bodies President
I personally would like to thank you for checking out the Performance Bodies web site. We stock over 12,000 racing parts that are ALL inventoried in our huge warehouse. 
We pride ourselves for focusing on customer service, quality brand products, free technical support, 100% satisfaction guarantee, and our 'World Famous Same Day Shipping.'
Performance Bodies continues to manufacture the best stock car bodies and stock the highest quality parts at competitive prices. Give our knowledgeable sales staff a call today, you won't be disappointed.
Thanks for your business and the best of luck at the track!

Brian Gerst
Vice President
As a kid I spent a lot of time at our local track watching my dad either help prepare the track before the races or in the Flag Stand the night of the race. Week after week, all I could think about was going back to the track.
As I got older my dad took me to a few of the different local race shops were I had to sit back and watch as some of our local greats worked on their cars. All I dreamt about was getting older so I could be one of the guys working on a racecar. In high school I got my opportunity and since then I have been involved with building, repairing and even owning part of a few Dirt Late Models. For 22 years of my professional career, outside of racing, was spent working for an international distribution company holding positions from Sales, Purchasing and finally U.S. Warehouse Operations.
Being able to work here at Performance Bodies is like coming full circle. Getting to work with some of the drivers that I grew up watching along with the next generation drivers has been exciting.
Contact Information:
800-722-4641

Pat Loy
Purchasing
As a small boy, I started out in the racing industry selling the Hawkeye Racing News paper for Keith Knaack at our local track – Tunis Speedway. 
In the years to come I would become very passionate about the sport of racing. 

As soon as I was old enough to get in the pits, I started helping friends with their racecars. I even raced a few times here and there with mixed results!!

In 1982 Scott Braun called to ask if I could help him for "a couple of weeks" with his fledgling body business – Performance Bodies. Needless to say it has been a long and very fun journey!

I have been very fortunate to work in the racing industry my entire life.
I have met a lot of GREAT people in this industry we all love.
Contact Information: 
800-722-4641
patl@performancebodies.com 

Joel Rust
Purchasing
My dad bought me my first go-cart when I was 6 years old and I have been enjoying the sport of racing ever since. I started racing in the IMCA Northern Sport Mod Division when I was 14 and raced for 5 years. I currently run in the IMCA Modified Division hitting as many dirt tracks as possible throughout the Midwest.
When I was offered a job at Performance Bodies, there was no hesitation, as racing is something I am very passionate about and devote a majority of my free time to it away from work. I learn new things everyday in this industry and enjoy helping everyone else out with any questions they might have.
Contact Information: 
800-722-4641
joelr@performancebodies.com 

Dan Bauler
Purchasing
I started working at Performance Bodies, in the fall of 2004, boxing orders and stocking shelfs. At the time I had no idea how big the racing industry was outside of what I saw on TV. I have enjoyed learning more about the sport at work as well as when I get the chance to make it out to the races.
Since working here, I've had the opportunity to work in most areas of the company. For the last several years I have had a few different roles from purchasing to freight logistics. I'm looking forward to seeing what's next for me at Performance Bodies, and the racing industry.
Contact Information: 
800-722-4641
danb@performancebodies.com 

Darin Duffy
Sales
I've been involved in racing since I was eight years old. I started driving my own Demo and Enduro cars when I was 14 years old. From there I went to Hobby Stocks, Modifieds and Late Models. I currently run my own Modified in races all over the Midwest.

If you ever see me at the races, stop by and say "hello."

Good Luck!!
Contact Information: 
800-722-4641
Matt McCahen
Sales
Racing has been a passion of mine since my little rascal days. I enjoy all types of racing especially when there are engines involved. I started racing BMX all over the Midwest when I was about 9. Raced figure 8 when I turned 16 for a few seasons to find my self running a northern sport mod. 2015 was my last year in it, up until this year. Purchased a IMCA mod witch I hope to have some fun in it next starting in 2022. 
If you have any questions don't hesitate to get ahold of me. I'll do my best to answer any questions and if I don't have an answer, I will do whatever I can to get one for you.
Contact Information: 
800-722-4641
Luke Bird
Sales
"Racing has been in my life as long as I can remember, watching my dad and brother race Go Karts.
I ran my first Demo Derby at age 13 and won a handful of those. At the age of 19, while working part-time and going to college, I bought my first Hobby Stock. I raced in the IMCA Hobby Stock Class for 6 years, enjoying some regular success and a few wins through the years. I Recently bought an IMCA Modified and look for to racing that around Iowa and traveling to the Midwest. In my spare time I enjoy spending time with my dog Gable and my wife Emma Golfing, racing, and taking in all the Iowa Football games and Wrestling matches that we can. Working at Performance Bodies is a dream come true. I work with some of the best people I've ever met which is just an added bonus to the awesome place.
If you have any questions give me a call or at the racetrack, don't hesitate to ask!"
Contact Information: 
800-722-4641
Alec Braun
Sales
Performance Bodies has been part of my life from the very start. As a kid, I use to go to the race track with my dad. When I was young, heading to the races was something fun and different every time. The first big race I remember was at Eldora Speedway. I was lucky enough to be there when Donnie Moran won the Eldora Million.

Since graduating college, in the spring of 2017, I am excited to get further involved in the industry and getting to know more about racing. I look forward to seeing some of you at the race track. If you have any questions, don't hesitate to give us a call and if you happen to see me at the track please come say hi! 
Good luck and have fun!
Contact Information: 
800-722-4641
alecb@performancebodies.com 

Tyler Droste
Sales
Racing has been in my family for 3 generations making it pretty hard to stray away from it. I started racing Go Karts at the age of 8 but my grandpa's dream was to see me race a Modified someday. When I was 12 we built a USRA B Mod because I wasn't old enough to run IMCA. After running a USRA B Mod and IMCA Sport mod for 5 years, I moved to the IMCA Modified division and raced for 6 years. I also ran an IMCA Late Model for a couple years during that time, traveling all over the midwest with both cars.
Even though I have cut back on racing, I'm sure you will still see me at the track from time-to-time, so don't be afraid to say HI. Whether it's in person or over the phone, I'd be glad to help and answer any questions you have!
Contact Information: 
800-722-4641
Koty Benhart
Sales/Purchasing
Racing has been a part of my life from a young age. I think I was about 7 when my dad brought our first go-kart home. It started as something for him and his buddies to mess around with. It didn't take long for me to get the itch as well. I currently have a couple of go-karts I still race when I get the chance.
I was beyond excited to be able to be a part of Performance Bodies from the day I walked in the door. From starting in the Receiving Department and now having an opportunity to do some Sales and Purchasing, I am truly grateful.
If there is anything I might be able to help out with, feel free to reach out and I will do my best to get you taken care of.
Contact Information: 
800-722-4641
Ryan Hartman
Marketing Manager
Contact Information: 
800-722-4641
Kristen Breuer
Office Administrator
Contact Information: 
800-722-4641